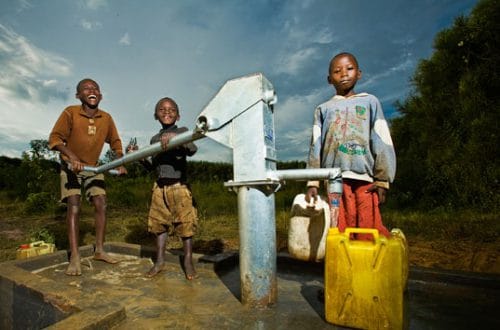 This pump is very popular in most parts of Africa & Many countries in Asia Like Laos, Vietnam , Cambodia etc. It is also widely used in several Central American countries.
If ever there was a pump which can work for an Entire community for years and years with very little maintenance and upkeep, it is the Afridev Hand Pump .
The main features of this pump are:
Variable handle settings are possible to meet changes in water levels at different times.
Customisation of spout length and Pedestal is possible.
Choice of Eye & hook connecting rod or threaded connecting rod.
Water discharge of 1350 litres per hour with an installation depth range between 15 m to 45 m .
Easy to install, can be accomplished by village women mechanics.
Stand Assembly can be Square Pedestal or 3 Legged Pedestal
Special tools for installation & maintenance of Afridev is available.
Installation Manual is also provided with each pump.
SKI Afridev Pumps are made strictly as per the SKAT standards which is the controlling body for various international hand pump in the world.
Click here to see how our Afridev Pumps are packed to make sure the end users get undamaged pumps
SKI Afridev Pumps being installed in Laos