PVC Riser Pipe for India Mark 2 with Square Threads
For places where the Water is very corrosive, the PVC riser pipe is a very good option. However, most of the PVC riser pipes being exported from India have V shaped metric thread which tend to break from the thread portion,which is known as the V notch effect  making the whole system go down the borehole.
We were the pioneers  in making PVC riser pipes  for India Mark 2 and we developed  the type of pipe seen above which has a Trapezoidal thread at both ends of the pipe. Since there is not sloping V formation in the thread , the pipe doesn't break from the thread portion which is generally the "weak" portion of the PVC Riser Pipe. These pipes are joined together by a heavy duty injection moulded coupler which also has matching trapezoidal threads along with 2 rubber sealing rings in each coupler to prevent leakage of water .
The diagram below shows how the water tank assembly and the cylinder assembly connect to the square threads of PVC riser Pipes with the help of CI Adaptors which have square threads on one side and metric threads on other side.
This PVC Riser pipe system with Square Threads is about half the cost of GI Pipes while being totally corrosion resistant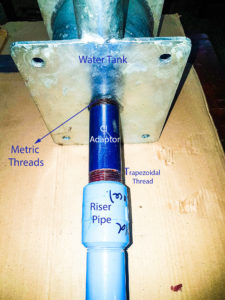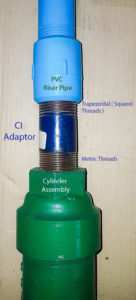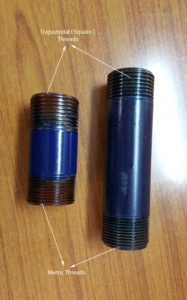 Related Pages
India Mark 2 Hand Pump
PVC Pipe with SS Couplings
SS Components for Mark 2
Extra Deepwell Hand Pump