Riser Pipes for Mark 2 Handpump : PVC or Steel?
One question a lot of our buyers in Africa ask us when buying our handpumps is this:
Are PVC Riser Pipes better or are Galvanized Iron Riser Pipes or some other type the best option?
To answer this, let's take a brief look at some of the Riser Pipes available for Mark 2 Handpump.
The GI Riser Pipe shown above is the type used from the very beginning. Each length of 3 meters weights between 7 to 9 Kgs approx  While the pipe is sturdy, it is prone to rusting and the couplers used with these type are poorly quality controlled and fail easily. The Landed cost per length of this type of pipe could be  around $ 20-24  . While this is the most known type of riser pipes for Mark 2, in our opinion this is one of the more problematic types and should be avoided where possible as cheaper and better options are available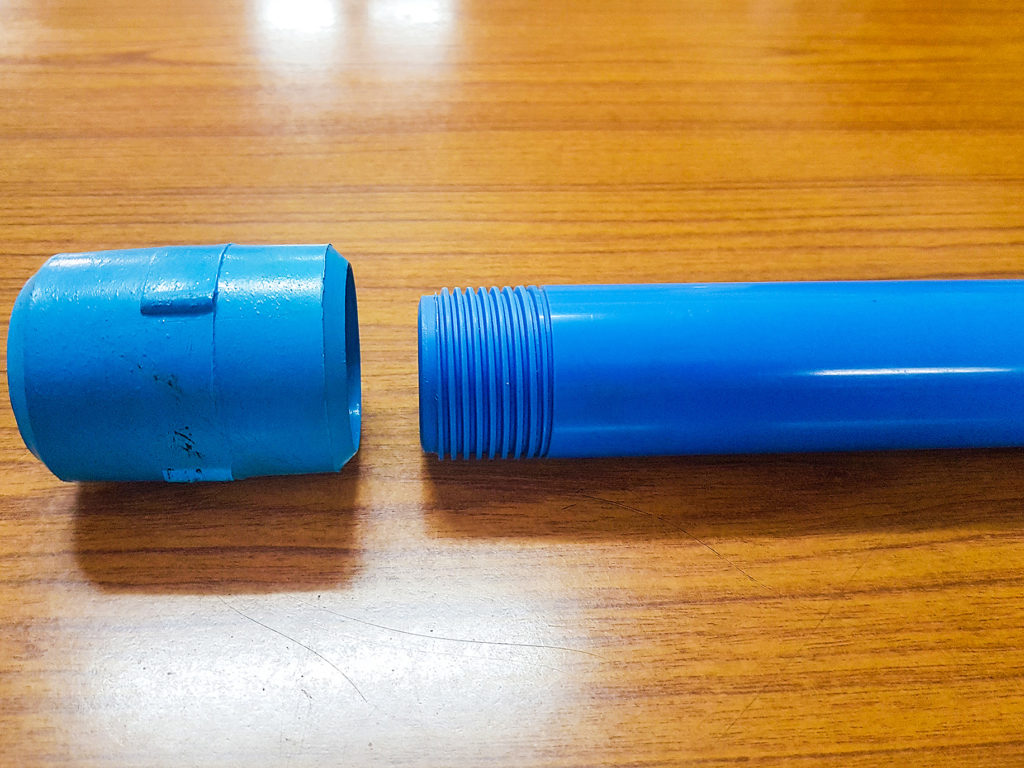 PVC Riser pipe with Trapezoidal Threads and Injection Moulded Coupler
The PVC pipe and coupler shown above, in our considered view represents the best balance between money and quality. It is light, it is relatively cheap and it is durable. It can resist corrosive water and is most suitable for handpump applications. The proprietary Trapezoidal thread invented by SKI prevents the pipe from breaking from the thread portion. The landed cost ( in Africa ) of the above pipe could be around $16-$20
The above types of riser pipes are most difficult to make and are based on French technology Pioneered in India by SKI. While the above could cost around $ 25-28  in Africa, they represent the state of the art in Riser Pipe technology. The PVC Pipe in the middle provides lightness and corrosion resistance, the SS 304 components at both ends prevent the pipe breaking at the ends. If these pipes can be afforded by a project, they will provide trouble free service for many years.
The SS Riser Pipes for Mark 2 pump are quite expensive, they could cost around $ 45-55 at the destination. They are only used in very specific use cases where no other type of pipes would be permissible due to various reasons. In many borewells, the topmost riser pipes used is this one while th rest below this are PVC Pipes.
So the answer :  In most situations, the PVC Riser Pipe with Trapezoidal threads and Injection Moulder coupler is the best choice..