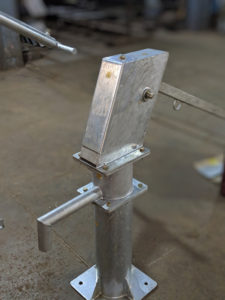 This pump is an improved & VLOM ( Village Level Operation & Maintainence ) version of the India Mark 2 hand pump.  Mark 3 has many common components with mark 2 like Head with Handle Assembly, Stand Assembly, Connecting Rods etc.
The main differences with India Mark 2 are :
Riser Pipe. Mark 3 uses riser pipe of 65 mm Nominal Bore as compared to 32 mm in Mark 2. Therefore the cost of riser pipes is twice in Mark 3.
Cylinder Assembly. This assembly is totally different from mark 2 . The bottom cap is to suit the check valve and top cap is to facilitate extraction of the plunger and check valve assemblies for repairs without lifting the riser main.
Water Tank Assembly. The Water Tank in Mark 3 has a 65 mm steel socket to accommodate the 65 mm riser pipe.
This pump is suitable for a depth of upto 50 meters.
A Special Installation cum Maintenance toolkit is also available for these pumps.